Reusable Garment Bags have always been our norm
And now we are using oxo-biodegradable packaging!
Exclusive Dry Cleaners uses two green-friendly options when returning your dry cleaned clothing. We believe that small actions (like opting for environmentally friendly dry cleaning bags) can drive big change.
Exclusive Dry Cleaners' Premium VIP Garment Bag
This is an eco-friendly, 4-in-1 reusable garment bag that can help you green your dry-cleaning routine. At home, it serves as a hanging hamper where you can collect your clothing during the week. Then you have your dry cleaning ready for pickup. It functions as a duffel bag and on return with your delivery of your order, your dry-cleaned clothes will be hanging and protected inside your personal garment bag, ready for you to wear.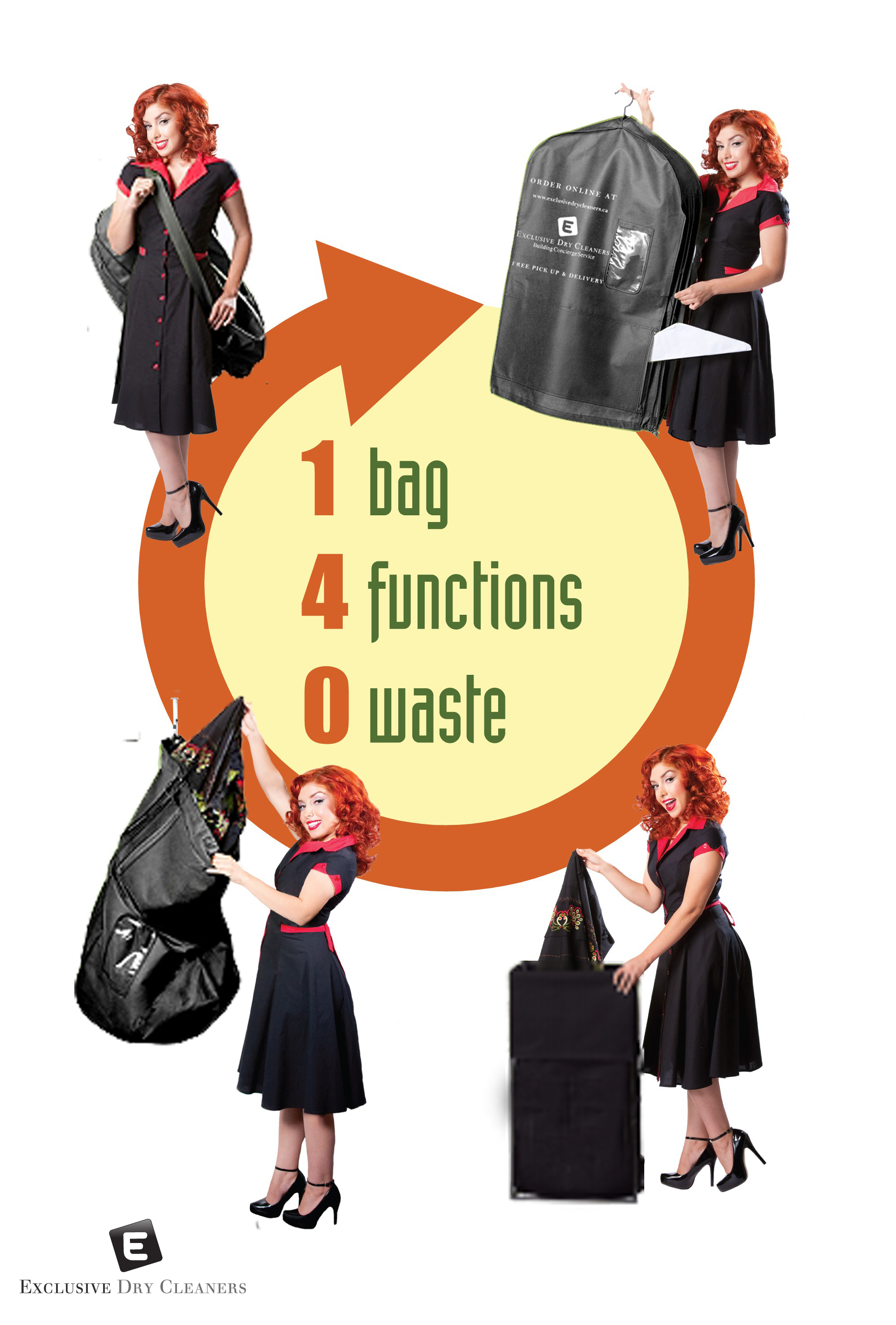 Features:
Made from recyclable non-woven polypropylene

Breathable & water-resistant

Side zipper allows easy access to hanging garments

Drawstring closure at bottom

Sturdy loop fits over any hook for use as a hanging hamper

Durable shoulder strap for convenient carrying as a duffel bag

Reinforced handles for compressed carrying

Wide gussets allow cleaned clothes to hang gently at all times

See-through front pocket for customer information

Recyclable & Reusable
Features of Oxo-biodegradable
For those not yet on our VIP reusable bag, we are exclusively using oxo-biodegradable clear bags for all our clear garment covers.
It is helpful to understand a bit about biodegradable materials to know the difference between true earth friendly options, and "green-washing". Oxo biodegradable plastic is different than the rest of biodegradable materials. Biodegradable bags are made from additive-based materials in order to hasten degradation upon exposure to certain conditions. Oxo biodegradable materials degrade by oxidation, being stimulated by the chemical additives. It is also important to distinguish between "oxo-degradable" plastics, which fragment but do not biodegrade except over a very long time, and "oxo-biodegradable" plastics, which degrade and then biodegrade.
Advantages of our clear bags are:
Degradable & Biodegradable - Test results and proven scientific studies have verified that the bags degrade, disintegrate and biodegrade.

Non-toxic - Degradable bags are made using EPI technology are non-toxic and safe

Non-ecotoxic - Our bags produce no harmful residue after biodegradation.
Every bit counts and that is why we are encouraging our staff and customers to do the right things to make the world better. Simplify your life. Download our app today.